The Novi Sad Tango Quintet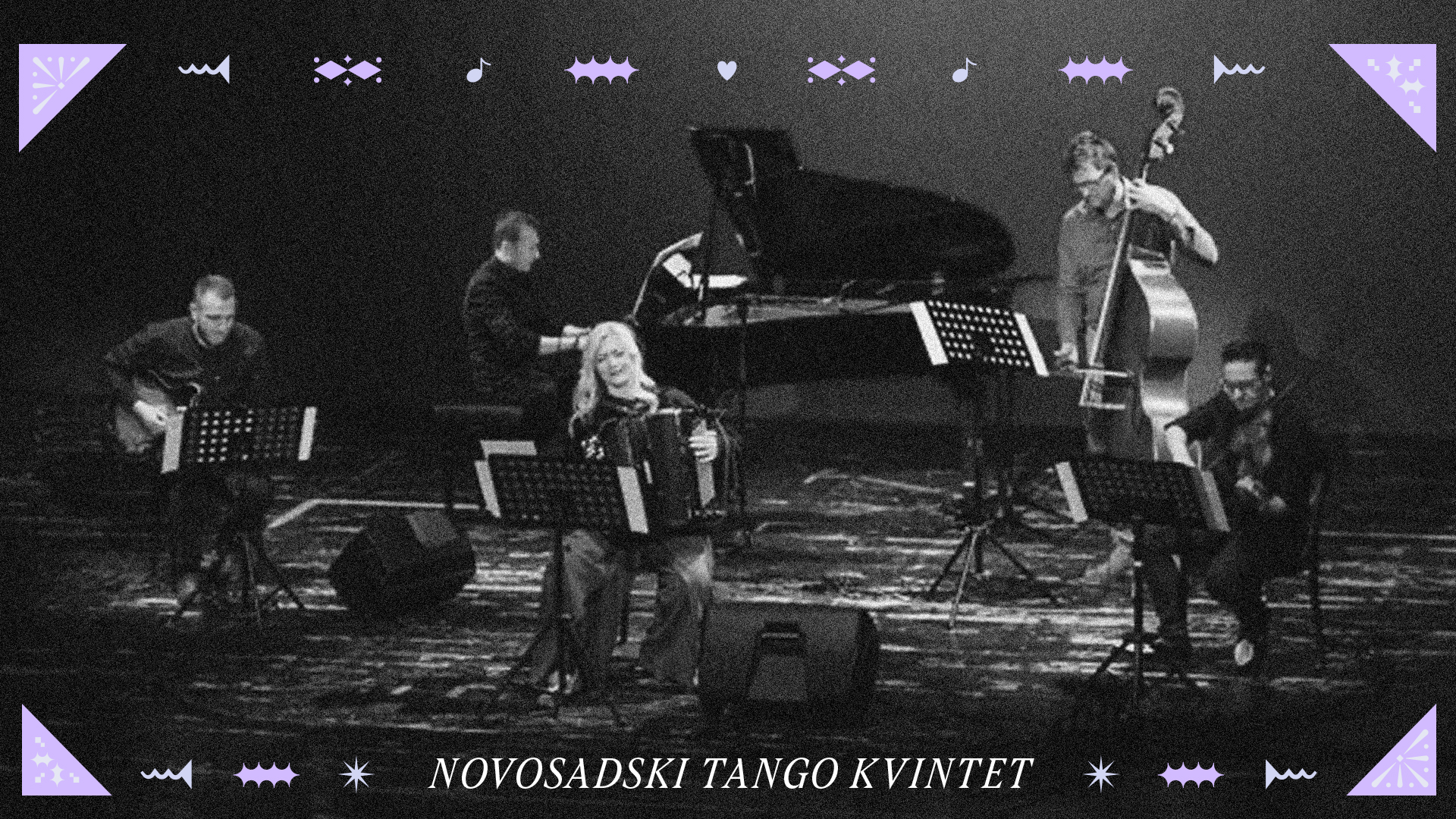 The Novi Sad Tango Quintet brought together musicians who had previously collaborated on various musical projects, with the desire to create a tango ensemble modeled after the famous Piazzolla ensemble. The cause for founding the ensemble was the 100th anniversary of the birth of the internationally popular Argentine composer Astor Piazzolla, which was celebrated in 2021 throughout the world.
In just two years of their existence, the quintet won the hearts of the audiences with their sensitive and passionate interpretation of Piazzolla's music, performing several times in their native Novi Sad, in Belgrade, Kragujevac, Šabac, Banja Luka.
The ensemble consists of: Vladimir Ćuković (1976, Novi Sad) One of the most active violinists in Novi Sad. Concertmaster of the Orchestra of the Serbian National Theater, the Vojvodina Symphony Orchestra, the Zrenjanin Philharmonic, and Camerata Academica. He is a member of numerous chamber ensembles in Novi Sad. His talent is characterized by an exceptional ability to transform and by an understanding of the music language of various genres to which he adapts with complete ease, so in addition to classic ensembles, he is also a welcome member of ethno and jazz ensembles.
Vladimir Jakovljević (1978, Novi Sad) Guitarist. Member of Novi Sad Big Band. For the past 20 years, he has collaborated with Boris Kovač, Aleksandar Dujin, and the Novi Sad band Milaćopezo, on numerous studio recordings, projects and concerts. He is active on the music scene, where he performs with various performers, as well as in various musical formats and stylistically diverse ensembles.
Fedor Ruškuc (1980, Novi Sad) Graduated jazz double bass player. He is the recipient of numerous international awards, and the one that stands out is the award for the best jazz double bass player at the "Jimmy Woody Award" competition in 2008. He performs throughout Europe as well as in Russia and Asia and can be heard on dozens of releases with various lineups.
David Klem (1982, Novi Sad) Graduated pianist, composer and accompanist. In addition to classical music, he is interested in theater music. He cooperates with the Novi Sad Theater as an external associate musical performer, composer, accompanist, arranger. He has participated in over 40 theater projects, with directors including Kokan Mladenović, Urban Andraš, Zoltan Puškaš, Đerđ Hernak, Robert Lenard, Žanko Tomić, Atila Bereš (Hungary), Anka Bradu (Romania), Jaka Ivanc (Slovenia) and others.
Dragana Kuzmanović (1982, Novi Sad) Graduated accordion musician. Leader of the ensemble Novi Sad Tango Quintet. Through her engagement, as the director of the Euphonia International Festival of Accordion and Chamber Music, she works to promote the accordion as an artistic instrument. Chamber and theater musician. Freelance associate of the Serbian National Theater, and the Youth Theatre.