17.08.2019
Terminal Music & Arts Festival @Gradić fest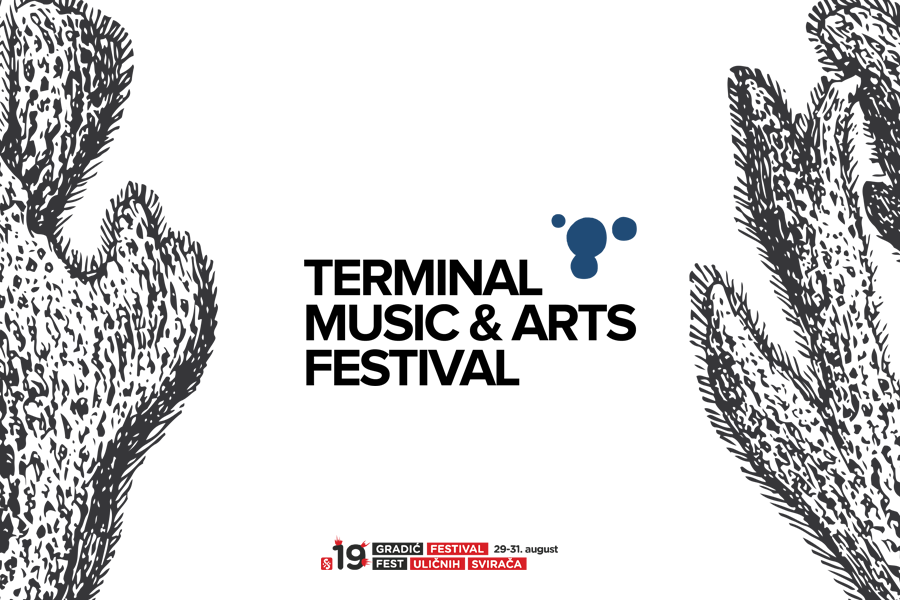 This year, a great enforcement is coming from Sombor to Gradić Fest. Terminal Music & Arts Festival has complemented this year's festival program and has selected the following performers: Zagar, an electro-indie band from Budapest, Mendel Collective from Romania, and the duo Kablovi from Belgrade – made up of MKDSL and drummer Peđa Milutinović.

Zagar is an audio-visual band from Budapest which explores electro and indie music accompanied by psychedelic animations. The band was formed in 2001, and so far they have released five studio albums; their debut album was selected for the chart of the 50 all-time important Hungarian records. They have performed in The Great Britain, Germany, Italy and other European countries, and in 2009 they were the supporting act at the Depeche Mode concert in Budapest.

They say that they are bound to the Earth, interested in forests and spirits, and that they emit the Earth's vibrations.

Mendel Collective are coming to the 19th Street Musicians Festival from Romania, this time as an audio-visual duo: Micha Mendel, aka Men-D, and Virgil Puiac. Men-D studied at the prestigious school of electro music and audio production 'BPM Sound School' from Tel-Aviv, and has honed his skills in the cult program 'ElectroShow' at Romanian Radio Cluj. His sets are pastiche low tempo, cinematic, ranging from all possible subgenres of house music to trance. So far, he has released eight records for American, Dutch, British, Israeli and Belgian labels.

Virgil Puiac is a 3D mapping artist who uses his visual projections to expand and intensify the effect of music, suggesting a powerful synesthesia. Puiac has performed at numerous international festivals, theaters, galleries and museums. Mendel Collective probably have the shortest manifesto in the world: music – love is the message!

The duo Kablovi from Belgrade consists of Marko Milošević, aka MKDSL, and drummer Peđa Milutinović. Leaning on Milutinović's powerful, consistent and furious rhythm, Kablovi engage in a genre crossover of electro music, jazz and psychedelic punk. These virtuosos, each of whom is established in his own field, give energetic performances which bring back all the glory of the underground scene in an explosive meeting of rave music and rock and roll.

The point at which Terminal Music & Arts Festival and Gradić Fest meet is their desire to use the music and art combo to enable the exchange of creative energy between the performers and the audience. For 19 years, the Street Musicians Festival has been bringing artists from all continents to Novi Sad, while Terminal has recently been internationalizing the art scene in Sombor, thus considerably contributing to Vojvodina's cultural offer. Like Gradić Fest, Terminal was conceived as a unique cultural attack, realizing concerts, exhibitions, video and film projections, performances, as well as forums and workshops, and thus has an educational, transdisciplinary character.